Here I will feature ads and products from the companies I am an affiliate with. Clicking one of the ads below will take you to the company's home page (and if you purchase a product, I get a tiny commission). Think of it like this: instead of going directly to the company's home page to buy your product, come do it through my website. Just by doing that, I get a small percentage of the sales from the item you will purchase! You're helping to fund my blog ventures while buying the product you already wanted, all for the same exact price.
​It's a win-win (and you help a broke blogger out). :)

**If I make 5 Funko sales, I become an official Funko product reviewer. So far, I have made only 1 sale. If you could help me out by making your Funko purchases through me, that would be amazing! My blog goal is to become a product reviewer, and I'm so close to achieving my goal! Thank you!!**

CLICK ON ANY OF THE ADS FROM FUNKO TO BE DIRECTED TO THEIR WEBSITE.​
Powered by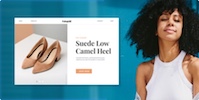 Create your own unique website with customizable templates.